The Work— Part 2, Competition Day
Inevitably, fresh-faced we were not, and at 5am we were up and at it again, ready to tackle the main day of the competition, the minuscule sleep adding some clarity to our thoughts from the previous night.
After raiding the local Starbucks at opening time of all of its coffee and croissants we made our way to the basement of The Palais. There we were shown to our booth and we moved into 'production mode'.
Surprisingly, the day itself ran relatively smoothly (if we do say so ourselves!). We had devised a schedule and broken down the key targets we needed to hit to meet our 8 o'clock deadline, which proved very beneficial. Through the day we managed to stick to this, using it as a helpful guide if we felt we were spending too much time on any one element of the project.
At one point during the afternoon when the effects of the previous sleep-deprived night were setting in, a representative from Getty Images arrived at our booth with a camera person to ask us a few questions about how the project was developing and how we were feeling, 'tired' was our answer. But a few miniature pastries from the lunch table did the trick for a sugar-kick and we managed to push through to the finish line, with time spare to proof read and ensure our printed piece was correct.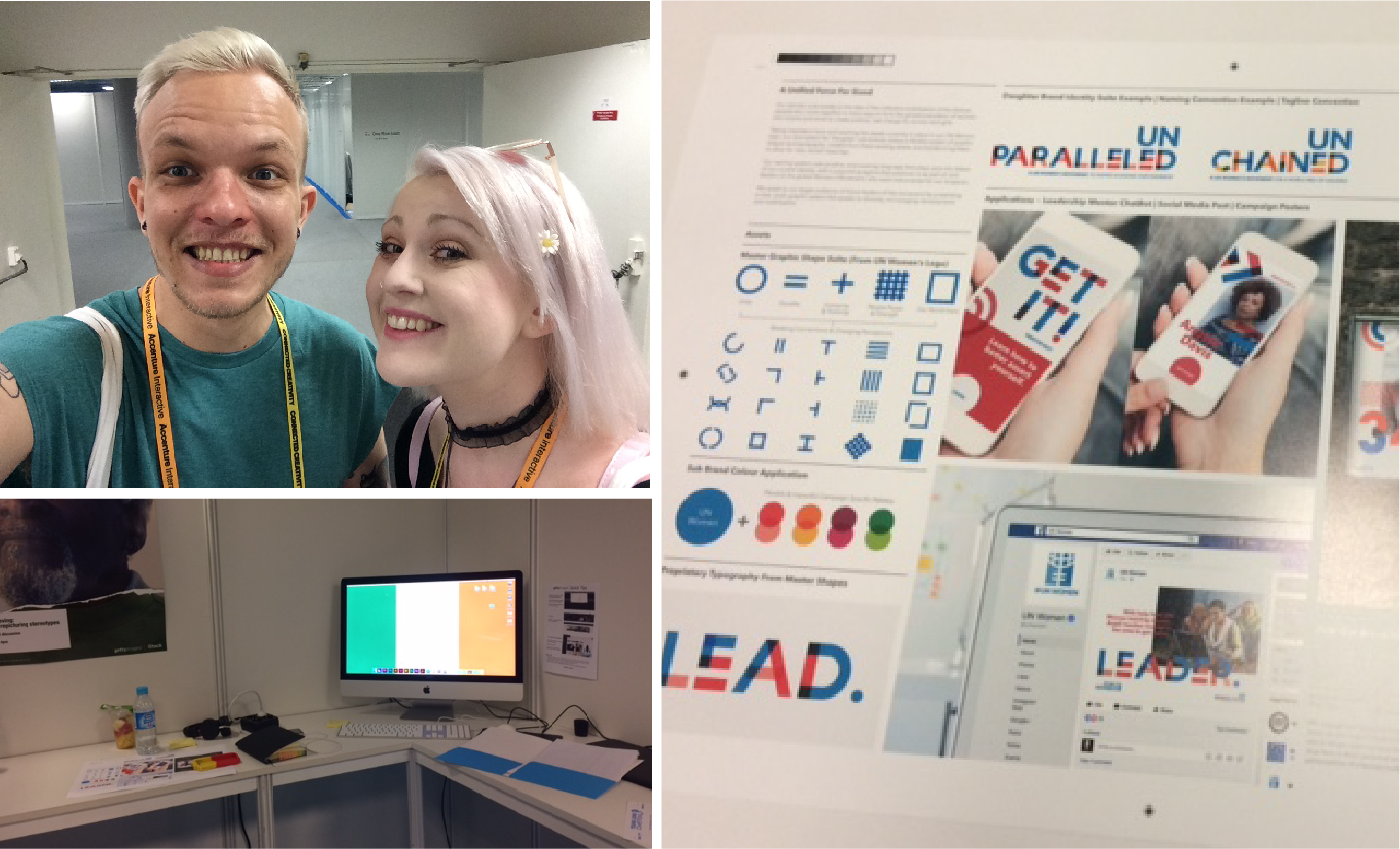 Our final design system revolved around the concept of 'A Unified Force For Good', speaking to the idea of the collective mobilisation of the diverse people who come together in many ways to form the global population of women, who inspire and strive to create positive, real change for women and girls.
Taking inspiration from and evolving the assets currently in place in the UN Women logo, our new system for 'Daughter' sub-brands utilised a flexible system of graphic shapes and typography, created from these existing assets, but transforming them to allow for the development of new forms, and varied meanings.
We did it! We were finished! We handed over the fruits of our labour, a single A3 document, and it was now out of our hands, ready to be presented to an impressive panel of judges from internationally renowned design agencies like Brand Union, Future Brand and Planeta to name but a few.
Time for an Aperol Spritz.
Another Aperol Spritz. Pizza. Sleep.
The Win
As an eternal pessimist (realist, OK?), I (Emma) had no inkling that we would be in with a chance of winning the much coveted Gold Young Lion. Kyle was more confident, hoping that we may place somewhere, possibly a bronze. As we sat in front of the panel of judges, IAPI representatives by our side, we suddenly got a wave of nausea over us as they announced the winners and we felt something we hadn't admitted  to ourselves all the way through the process…we really wanted this. Bronze was announced, not us. Silver, not us again, no chance. An then, to our utter disbelief the word 'Ireland' was called out as the winner of the Gold. The feeling that accompanied this disbelief was one of incredible euphoria, and immense pride that we had achieved this win while representing Ireland.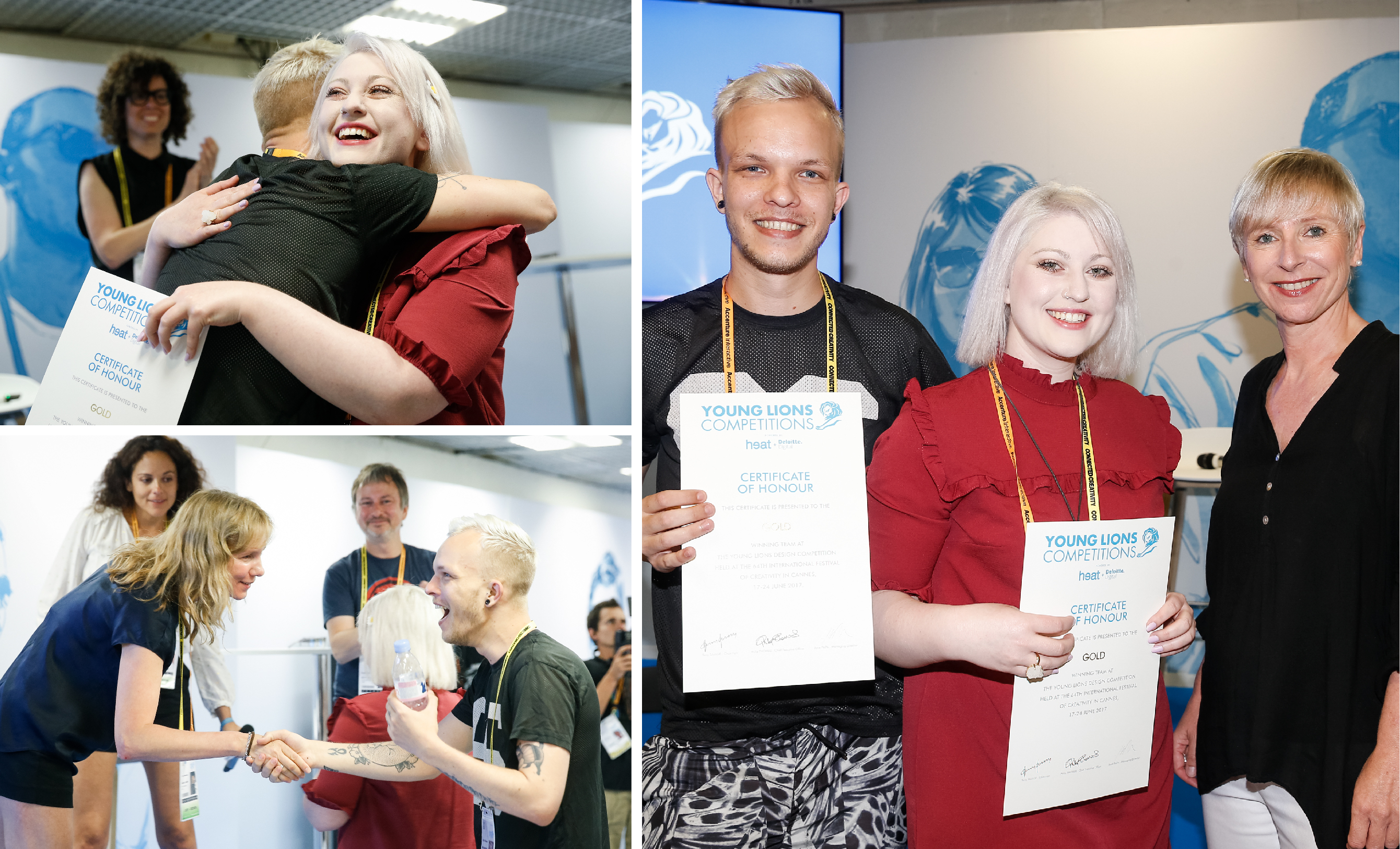 We thanked the judges, shook hands, hugged our teammates and the IAPI team, shed some tears, and most importantly…called our moms (and the RichardsDee Team)! The feeling was incredible.
We were photographed, interviewed and congratulated and then left to our own devices to get ourselves organised for the awards ceremony that evening where we would be awarded, alongside our peers and the judging panel, with two gold medals, on a stage worthy of The Oscars, in a theatre filled with over 1,500 people. No pressure, right? The awards show was fantastic, showcasing the inspiring work of the other Lion winners in the Design category.
Afterglow
As the first Irish Gold winner of Cannes Young Lions in its 23 year lifespan, we were very very proud. Young Lions has been a wonderful opportunity for us to hone our skills and push ourselves to the boundaries of what we're capable of. It's also been an unbelievable experience, being immersed in the festival environment and being surrounded by the world's best creative talent, and with our other teammates form Team Ireland, in the beautiful location of Cannes. We urge anyone considering entering to just go for it.
We want to thank our wider team at RichardsDee without whom, none of this would have been possible, the external mentors we had along the way- Steve Payne and James Beveridge, and the team at IAPI who were an organisational powerhouse, supporting us all in Cannes, no mean feat!