Furthr
Enabling ambitious
founders to go Furthr.
Renaming and rebranding Ireland's leading enabler of innovative start-ups and scale-ups.
Since 1988, Dublin BIC have provided ambitious founders with everything they need to start and scale their businesses. With the most comprehensive supports available to entrepreneurs in Ireland, Dublin BIC provide game-changing consulting, direct and leveraged funding, accelerator programmes and community building through live events.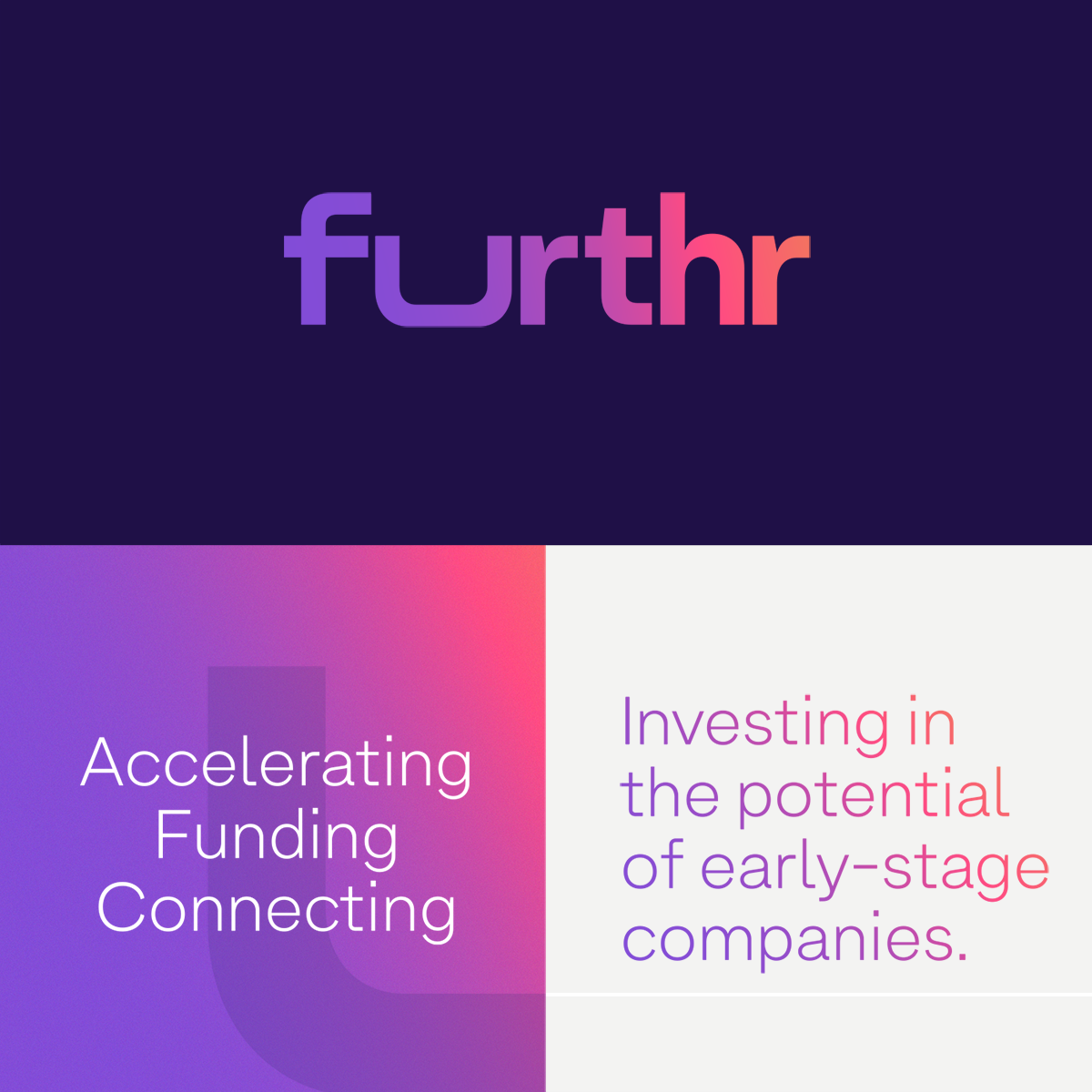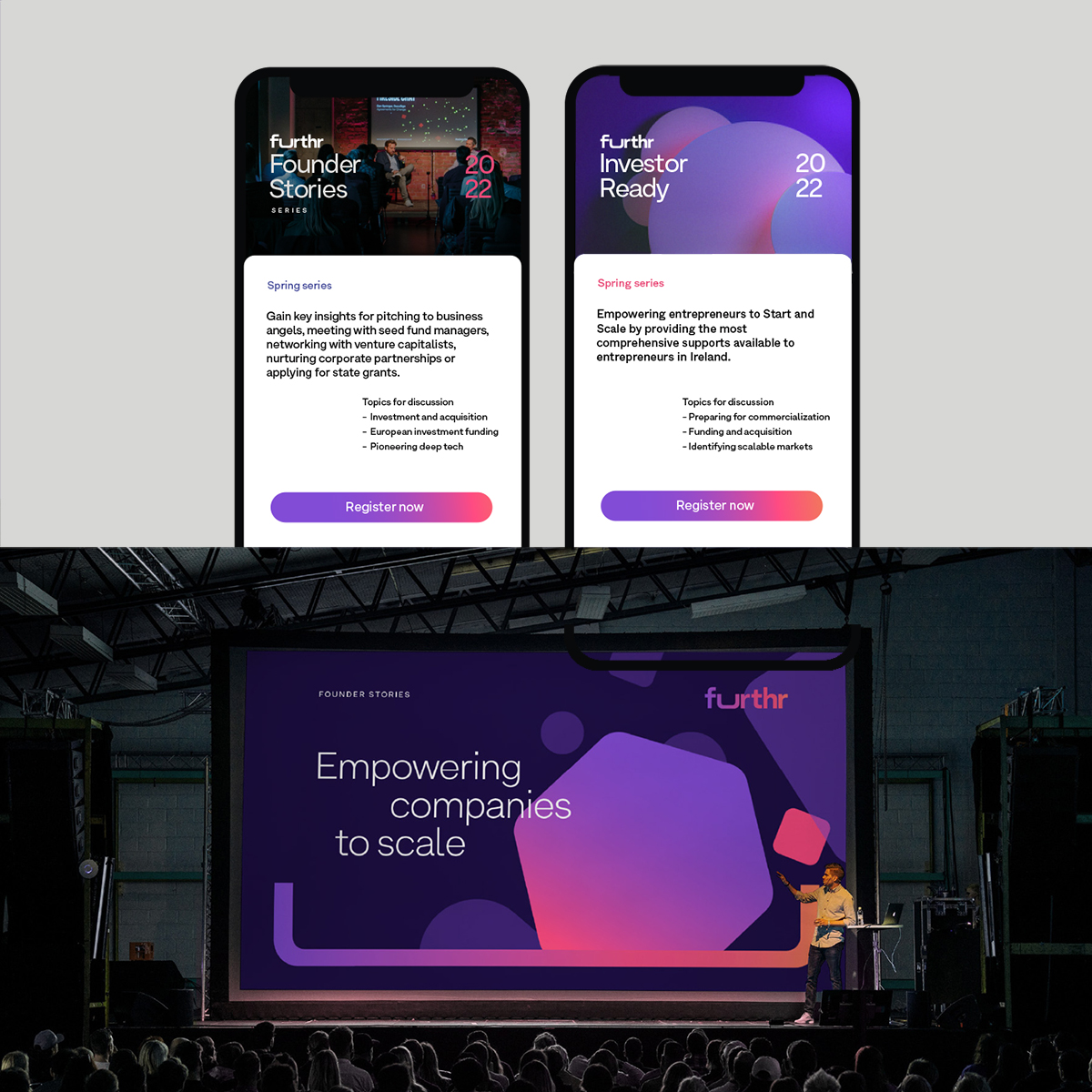 The Challenge
Following a detailed strategic planning process and revitalised brand strategy, we partnered with Dublin BIC to bring their new positioning to life through renaming and rebranding. As the Dublin BIC name originated as part of the EU BIC network, the new name was key to the repositioning. At the same time, we needed to simplify and celebrate Dublin BIC's game changing impacts for founders, achieving an inspiring shift in perception and a compelling narrative reflecting their audience insights, core attributes and the real impacts they have been delivering to businesses since 1988.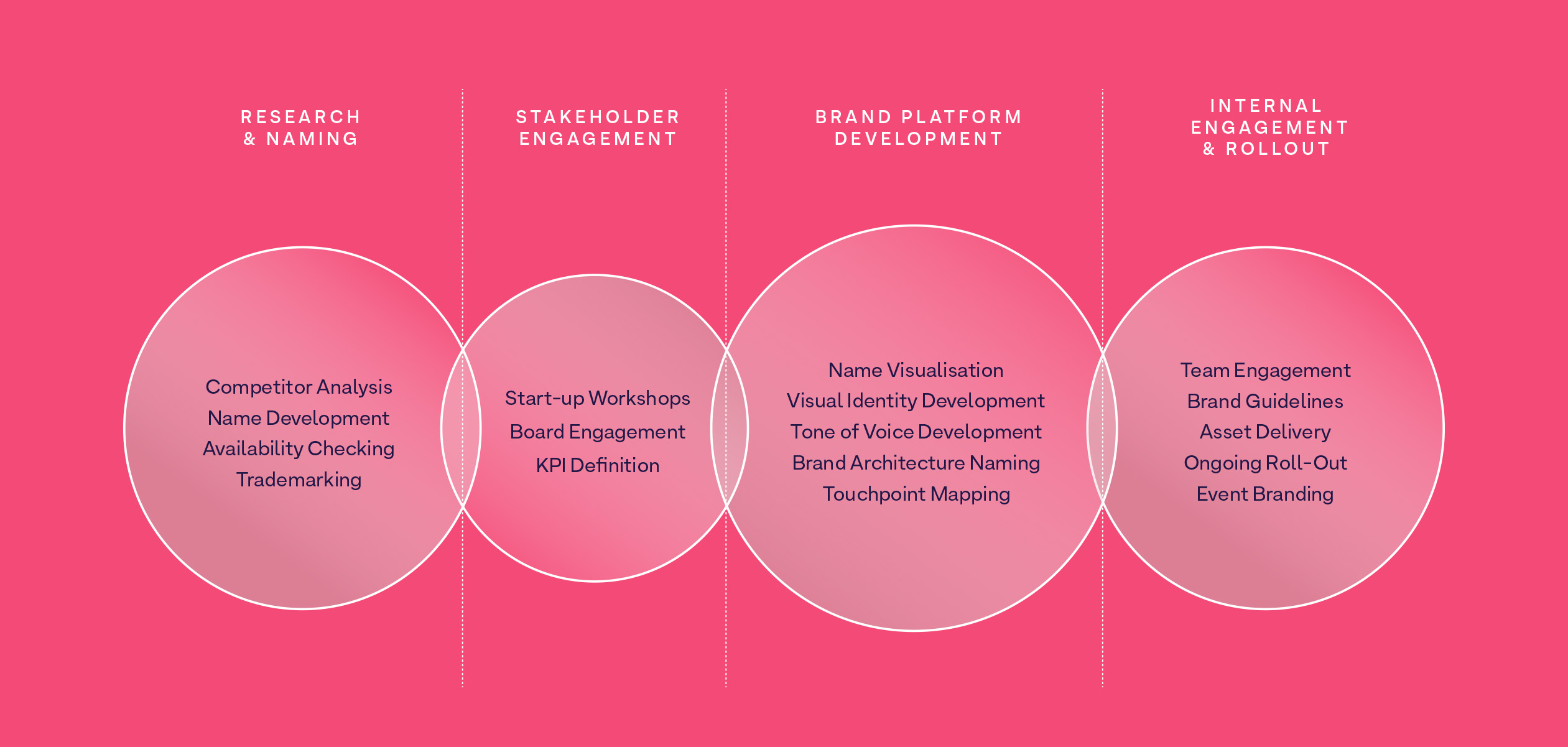 Solution
We first met with start-ups and Dublin BIC alumni to establish the context of the domestic and international market. By building out the ecosystem of brands that start-ups access locally and setting the standards that need to be achieved to connect with investors globally, we gained key insights into how far Dublin BIC could credibly stretch its brand.
With these parameters established, we had a set of clear criteria for what any new name and identity needed to do, and how they would be meaningful. They needed to reflect the dynamic and accelerating nature of their consultancy along with leveraging the scale of funding and community supports available to ambitious founders. They also needed to differentiate Dublin BIC from other local competitors and stand side-by-side with international benchmarks.
Our detailed name development process was built to bring their core values, attributes, and benefits to life. We began by creating early-stage visuals and stories to bring the names to life, illustrating how each name could influence the tone of the brand and aid the clients' decision making. Focusing on the statement "We accelerate, fund and connect ambitious founders, enabling them to go further", the evocative name Furthr was chosen, as well as the complementary proposition line: Accelerating, Funding, Connecting. Success of the name also included a thorough checking of availability and the successful registration for trademarking.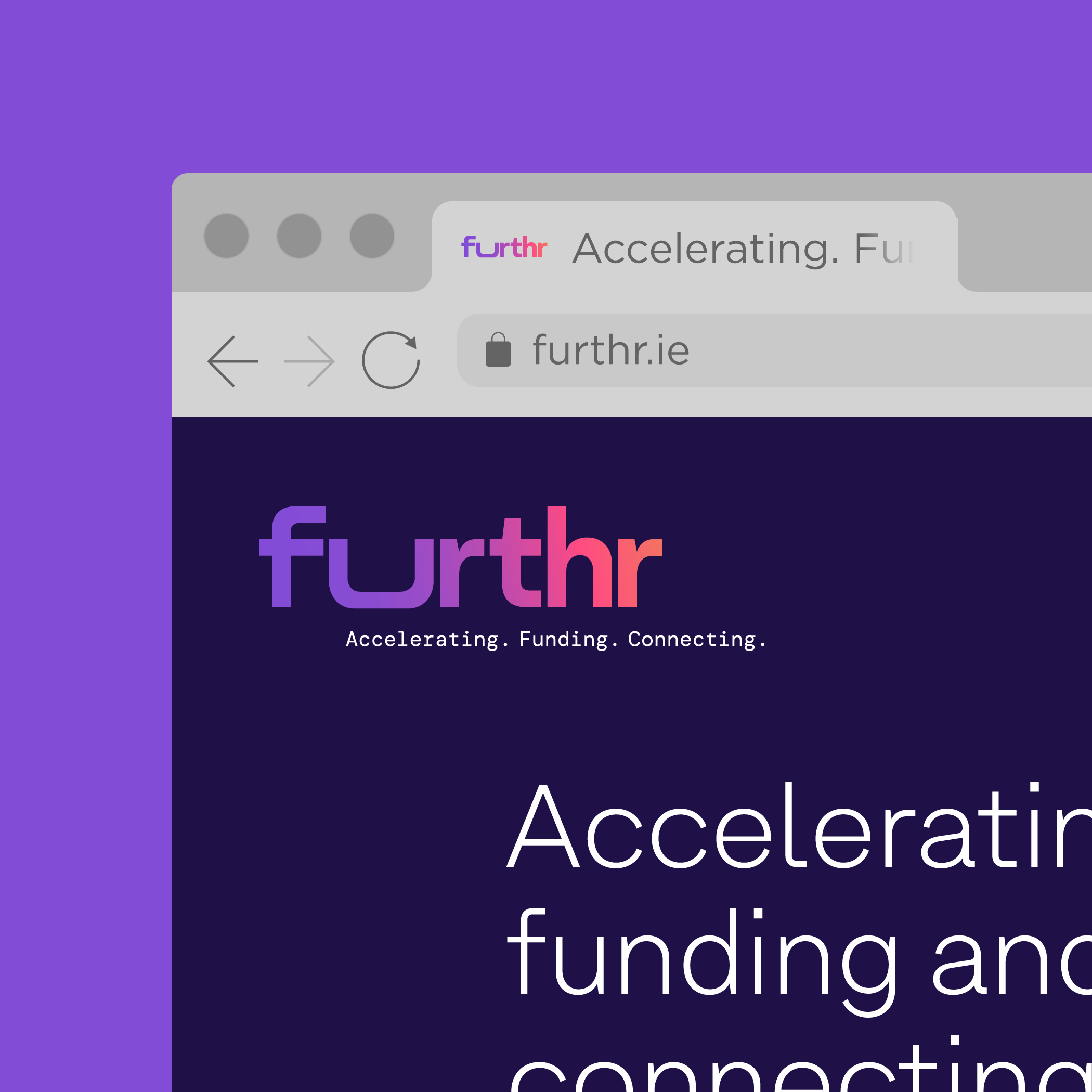 The new brand identity is a simple and impactful lettermark with a unique 'U' that physically grows. Symbolising how the organisation helps start-ups go further, the flexible and adaptable shape places founders and their ambitions at the centre of the brand. Purposely designed to capture the energy to the brand and reflect their personality, the new identity evokes change and captures Furthr's new purpose: to deliver game-changing impacts that accelerate success for ambitious founders.
Working with the new identity, we approached the wider brand assets including photography and messaging by focusing on Furthr's three core areas of business: alumni, events and their team. The tone and language system centred on impact- and action-orientated language that reinforces Furthr's truths and acts as a call to engagement for start-ups and investors.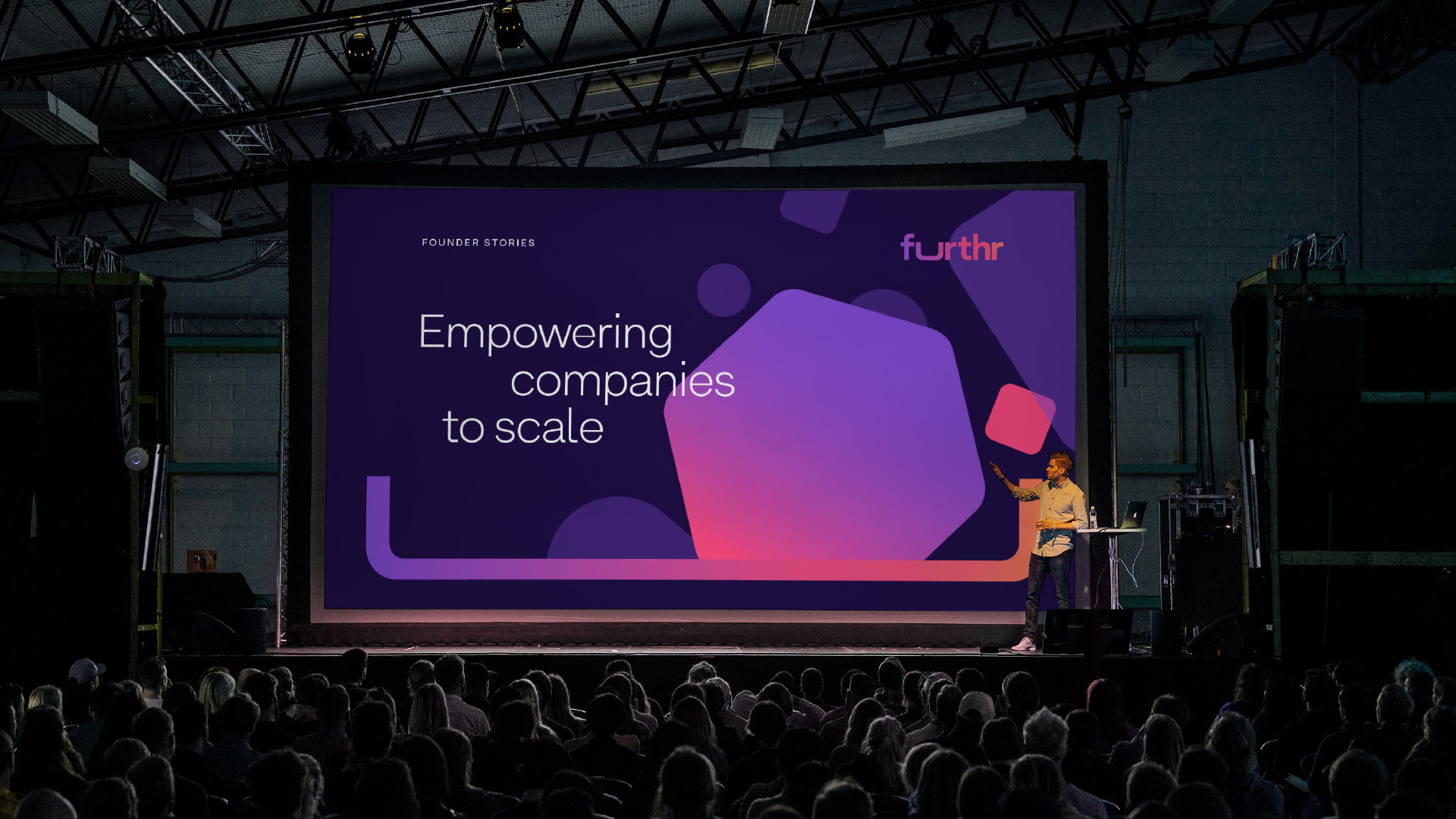 Our new brand Furthr is wholly reflective of the modern Ireland and the innovative, ambitious, globally minded entrepreneurs that we speak to daily. Our team and our dedication to Ireland's start-up ecosystem has not changed.
We are extremely proud of the work that we have achieved to-date and we will continue to offer the most comprehensive range of practical supports to Ireland's most inspiring entrepreneurs. In doing so, we are empowering a new generation of entrepreneurs to succeed on a global scale.
Michael Culligan, CEO, Furthr
To create clear ownership of the many initiatives, events and programmes of the organisation we developed their brand architecture system with an emphasis on the parent brand. This both simplified the number of names and logos in use, and, importantly, invested in the parent brand, building value into it by having greater control and visibility over its activities.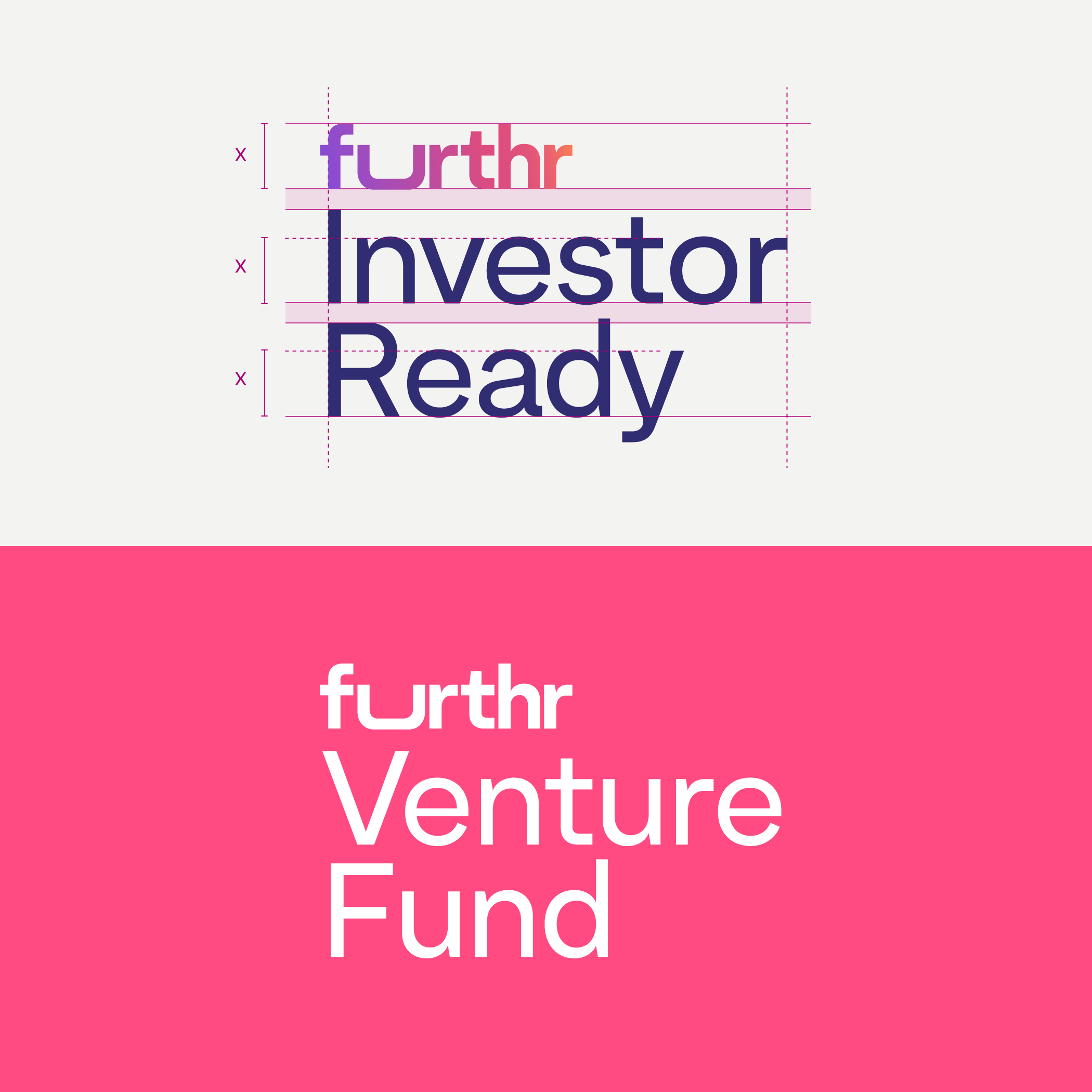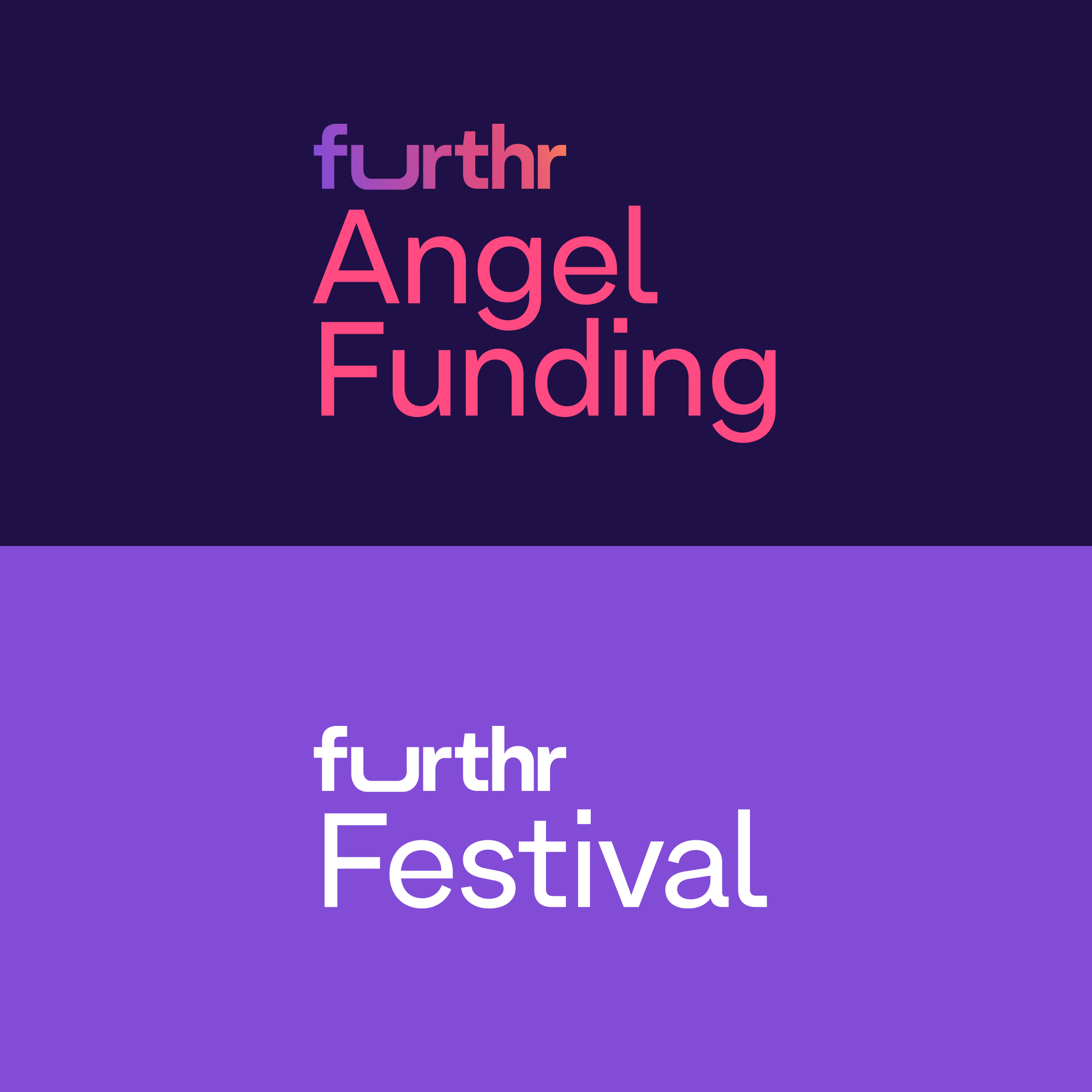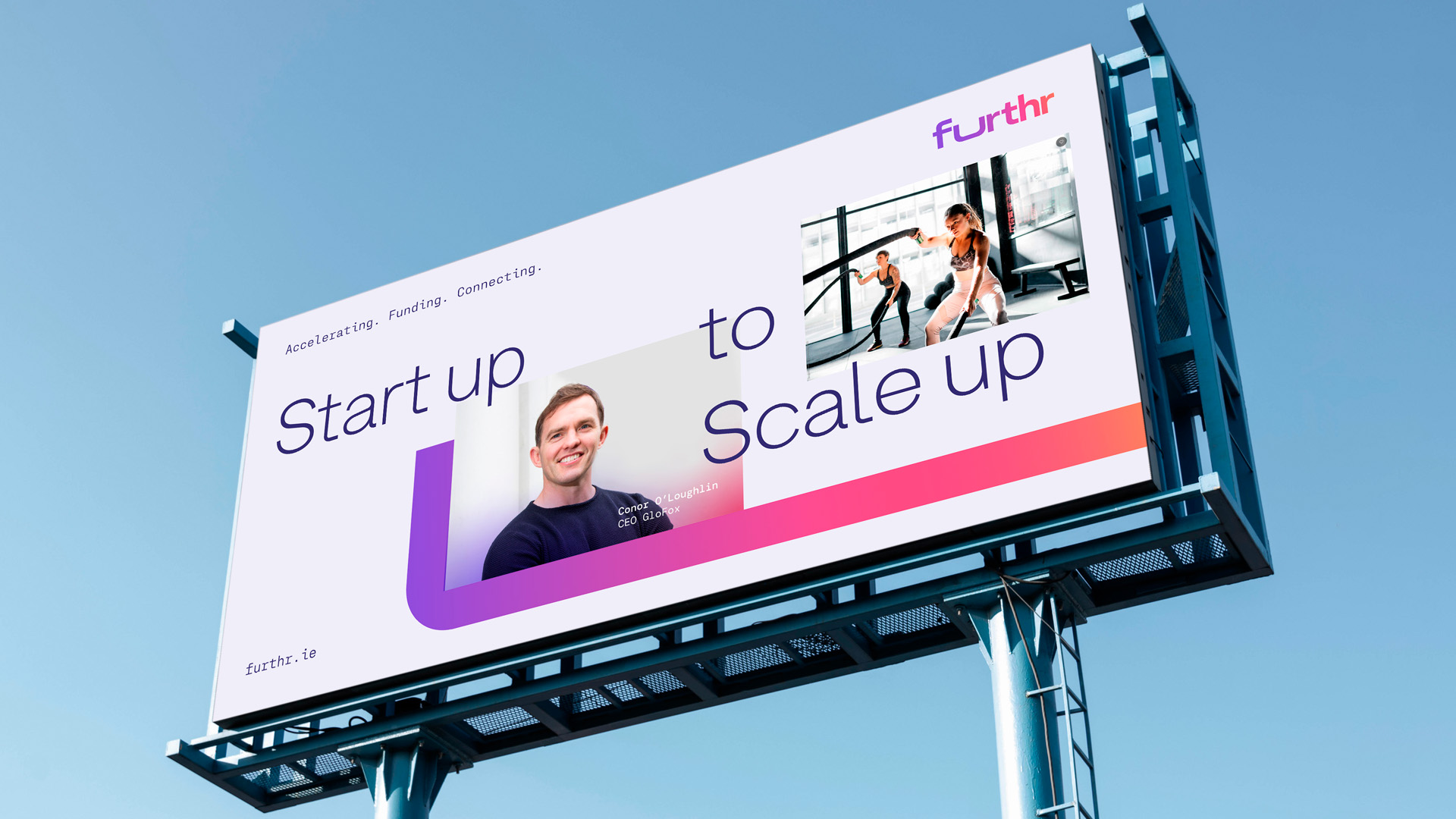 The project was delivered in a swift timeframe. By supplying the tools to tell the story of Furthr's new name and proposition to internal and external stakeholders, and by helping with overall understanding and buy-in, the new name and brand empower the organisation and the ambitious founders they support to go further, together.