Reitigh
Translating
Complexity
into
Opportunity
Branding the link between complex information and infinite opportunities
Created to solve the most complex processing challenges in financial services, Reitigh translates data into opportunities for leading global banking, investment, and insurance enterprises.
Challenge
Created to unlock the power of data and deliver automated processing at scale for leading banking, investment, and insurance enterprises, Reitigh solves complex technical, data and administration challenges more comprehensively and transparently than any other player in the market.
Our challenge was to clarify how Reitigh could strategically communicate their highly technical process to engage and attract new customers and talent, setting the brand up for future success.
Solution
Through a strategic process and deep engagement with the Reitigh team, we extracted the truth within: Reitigh solve the most complex data and regulatory challenges by elucidating and creating order enabling leading global enterprises to accelerate decision making, security and control.
From this, we crafted a unique set of CLEAR values, an authentic purpose "We translate complexity into opportunity, liberating enterprises and employees to focus on what matters most" all distilled into a compelling brand promise "Translating complexity into opportunity."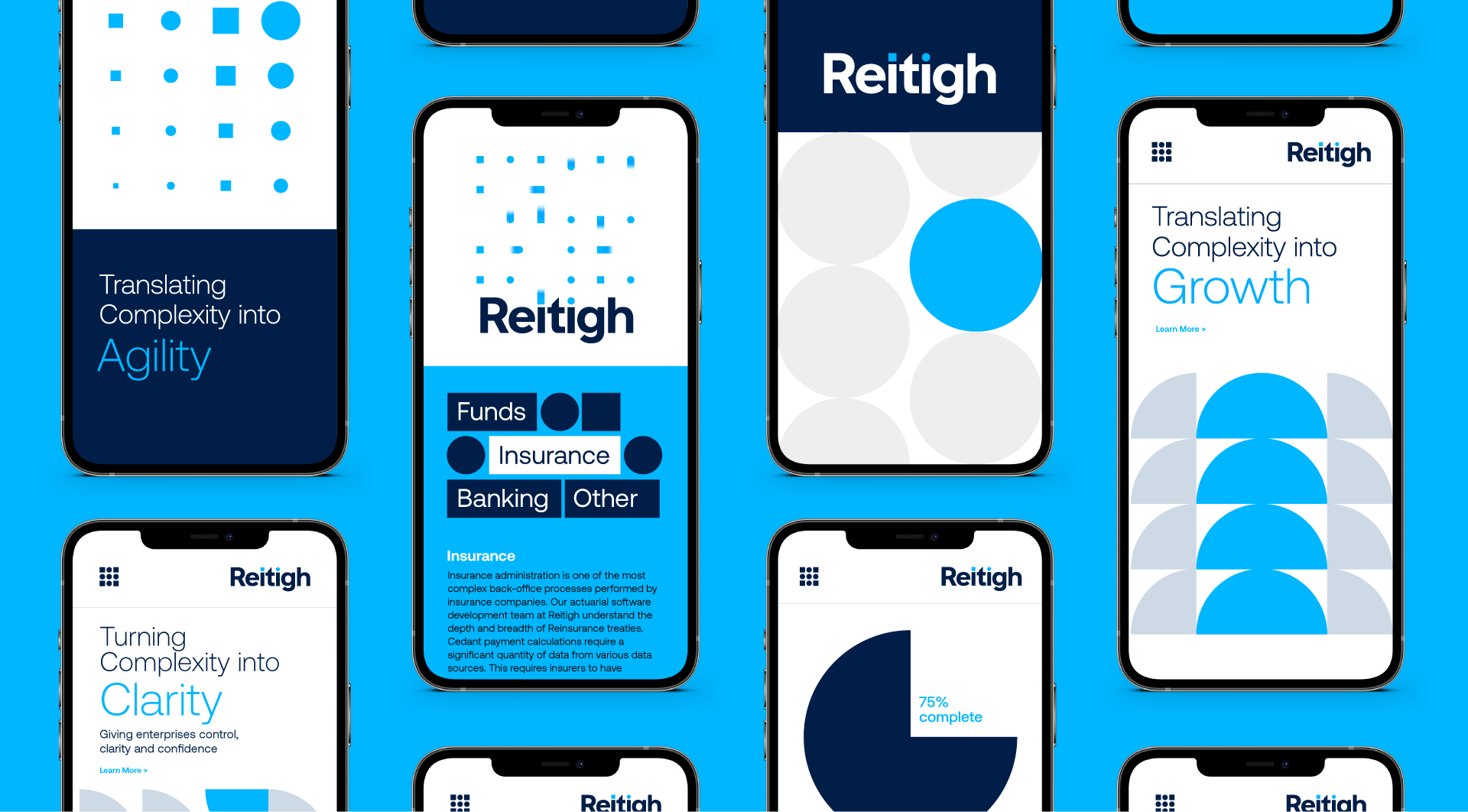 A strong and focused design system was developed, capturing the Reitigh approach of 'Always Simplifying' by streamlining and uncomplicating until all that remains is essential and useful. This is brought to life through the elemental shapes of circles and squares. A contemporary and confident new wordmark was designed with these elements to visually represent the meaning of Reitigh – to solve.​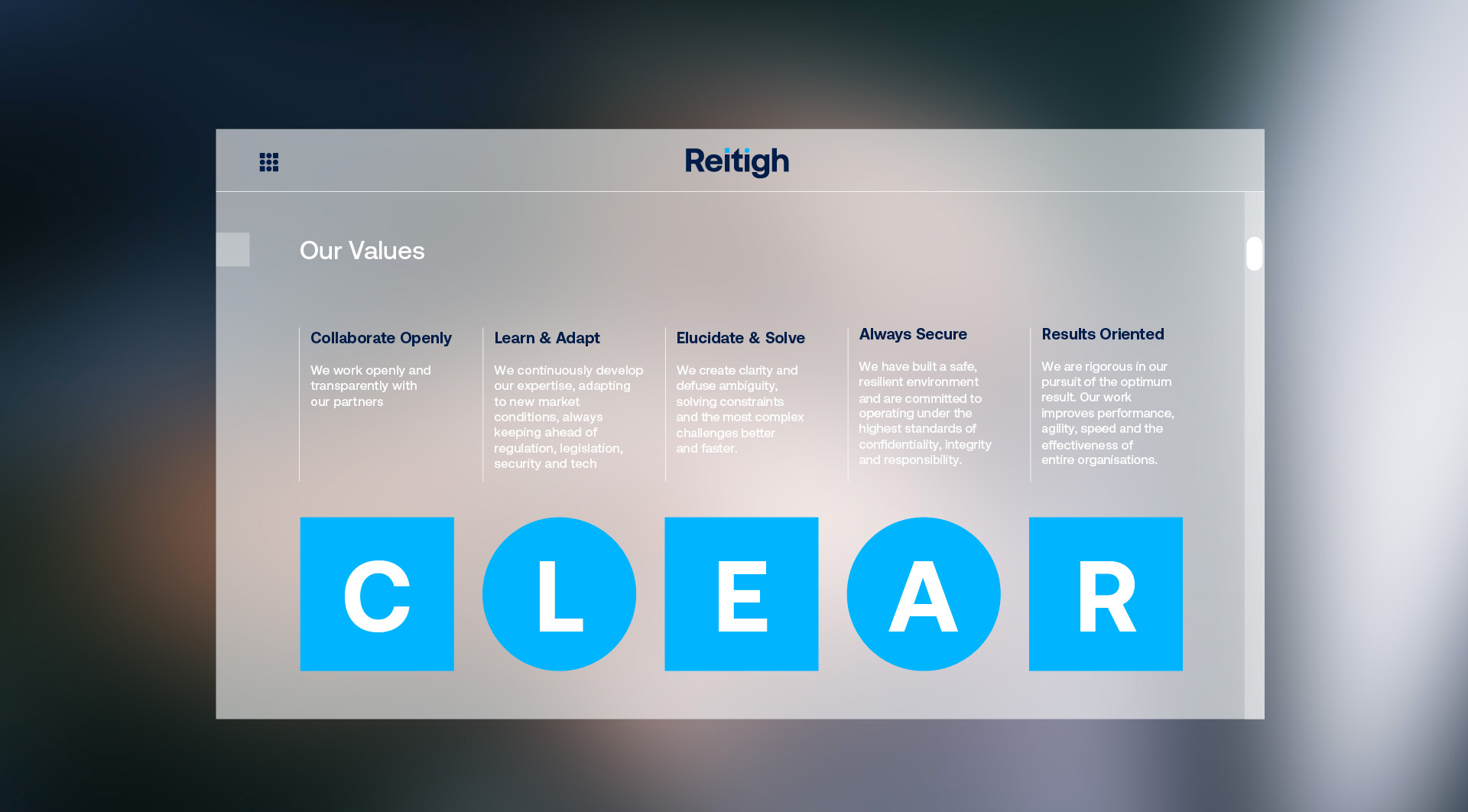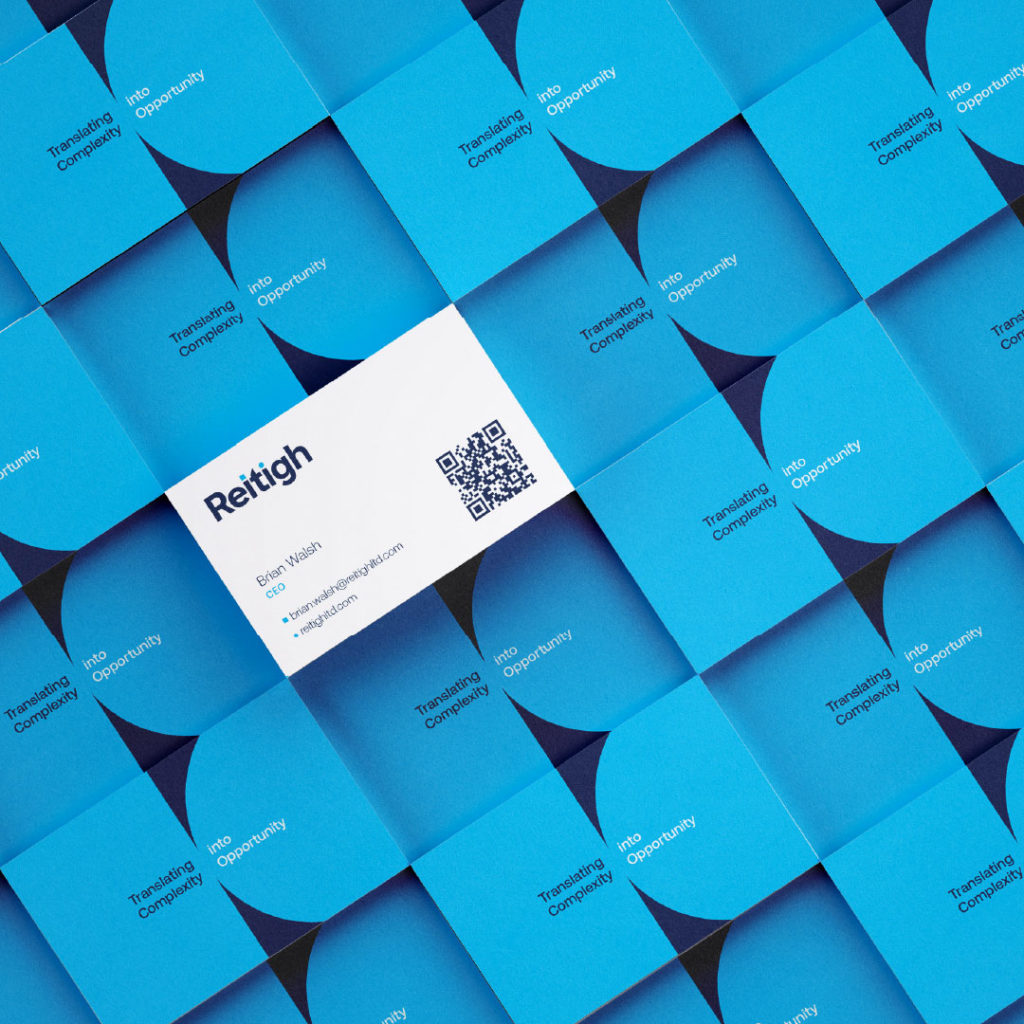 "RichardsDee extracted the essence of Reitigh and converted it into a clear and engaging positioning in a way that we could never have managed on our own. It was as though they were introducing us to ourselves. The process was really enjoyable and flowed quite easily.
RichardsDee really understood the nuances of B2B selling, and in particular what it was like for us interacting with large enterprises. This allowed for a laser focus on the right kind of messaging for our target audience."
Brian Walsh, CEO, Reitigh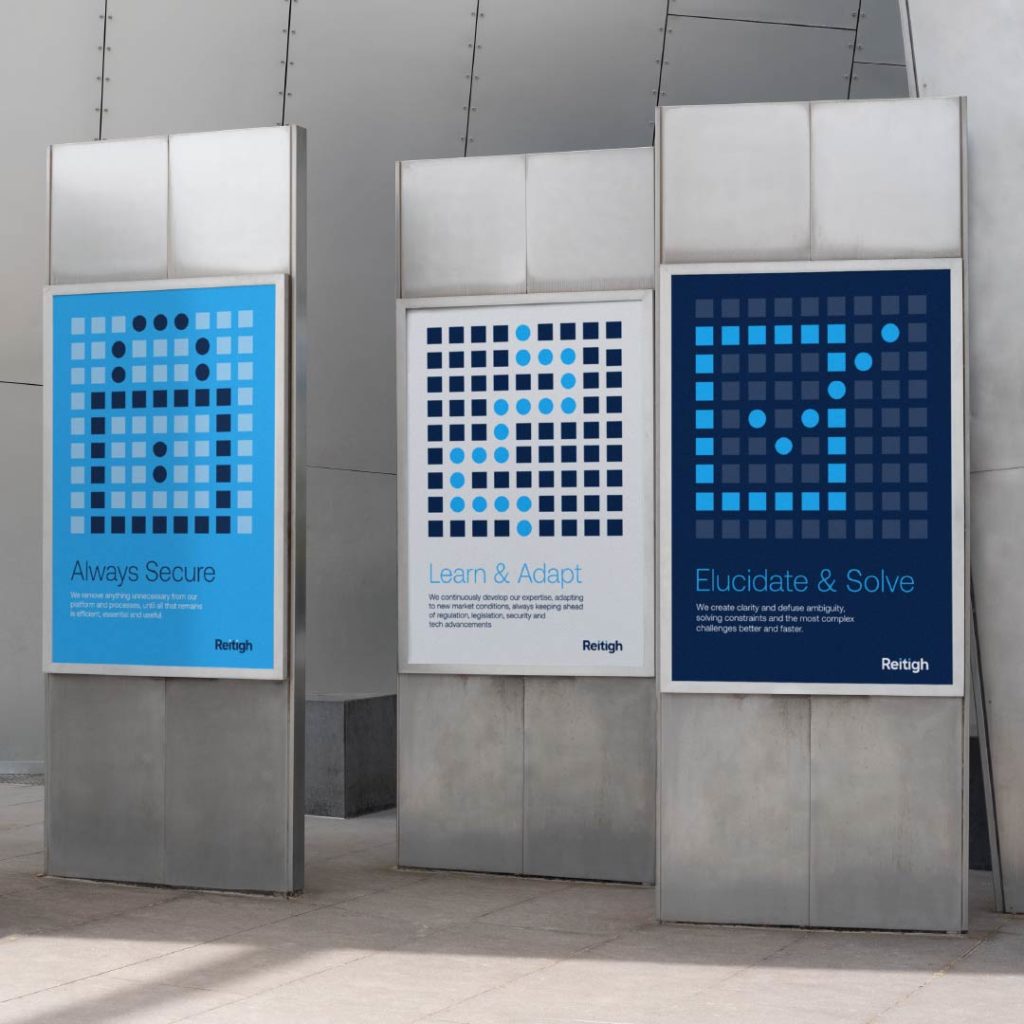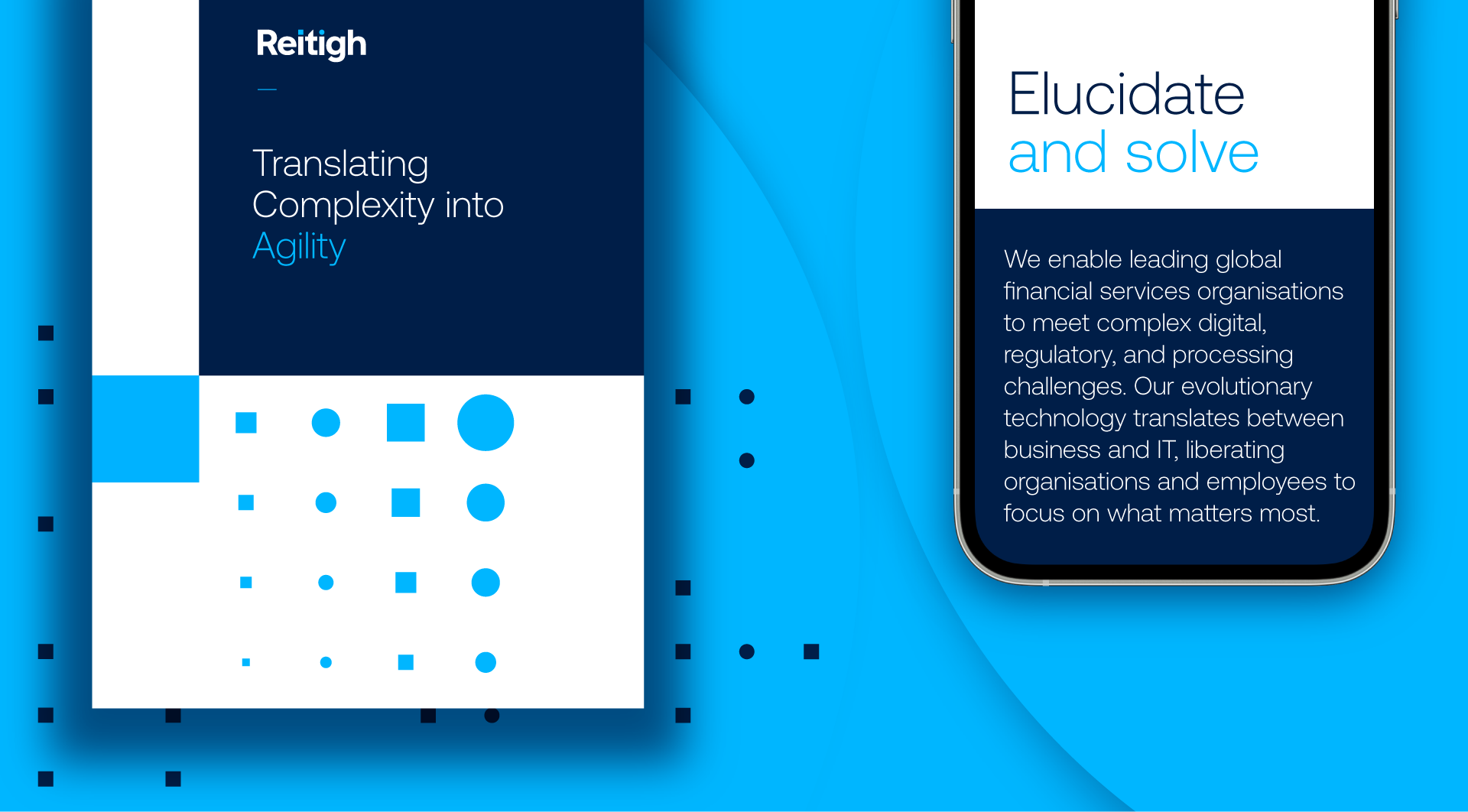 Micro and macro patterns expand the lexicon of the elemental shapes by telling stories and concisely conveying abstract or complicated information.
The new brand colours balance clarity and energy to evoke both the solution and the resulting opportunity, bringing the purpose of the brand through every communication.
Finally, a simplified and structured approach to language was defined, representing Reitigh's commitment to defusing ambiguity and translating complexity into opportunity for ambitious enterprises.